Overview of Services


The MUSC Mass Spectrometry Facility provides expertise, services, education, and training to enhance biomedical research endeavors through LC-MS/MS-based proteomics.


Services:
LC-MS/MS for quantitative proteomics to for differential protein abundance, identification of differentially expressed nascent proteins, protein-protein or protein-drug interactions, phosphoproteomics.
ThermoScientific Orbitrap Elite ETD Mass Spectrometer interfaced to an Ultimate 3000 nanoLC system.
For protein identification, characterization of post-translational modifications, and quantitative proteomics using SILAC, TMT/iTRAQ, and label free approaches.
Acquired through the NIH Shared Instrumenation Grant Program: S10D010731 Orbitrap Elite ETD Mass Spectrometer. Please cite and link the grant to your publications on MyNCBI Bibliography.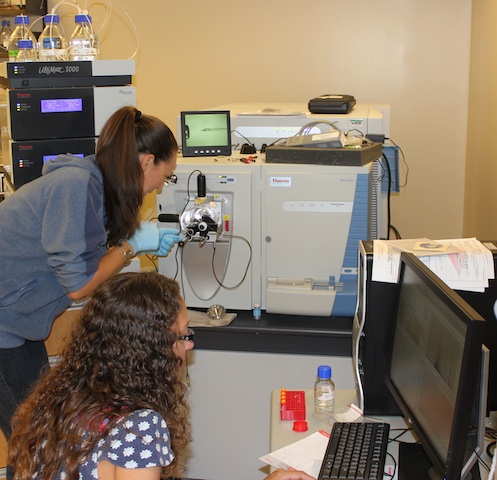 MALDI-TOF Mass Spectrometry for intact proteins or peptides.
Bruker Autoflex III MALDI-TOF

Leadership
Director: Lauren E. Ball, Ph.D.; 843-792-4513, ballle@musc.edu
Lab Manager: Jennifer Bethard, M.S.; 843-792-8637, bethard@musc.edu
Susana Comte-Walters, M.S.
Kim Norris-Caneda, M.S.

Location and hours of operation
Hours
Location

Available for consults Wednesday 1:00PM, CRI 311

To schedule email:ballle@musc.edu

Proteomics Center

305 Children's Research Institute


Charleston, SC 29425
Links and Resources
Redox Center: SC Center of Biomedical Research Excellence in Oxidants, Redox Balance and Signaling (P20 GM103542, PI:Tew)‑ Proteomics Core (Director, Lauren Ball, Ph.D.)
Proteomics Center: MALDI-Tissue Imaging Mass Spectrometry and Biomarker Discovery (Director and SmartState Chair, Rick Drake, Ph.D.; SmartState Chair, Anand Mehta, Ph.D.)
Bruker Solarix 7T FT-ICR Mass Spectrometer with MALDI-source for tissue imaging
Bruker Rapiflex MALDI-TOF-TOF Mass Spectrometer for high throughput tissue imaging
Search available services:

View: by category alphabetically
►

Computational Proteomics (1)
Name
Description
Price

Computational Proteomics

Inquire

►

MALDI Imaging (1)
Name
Description
Price

MALDI Imaging

Contact  Rick Drake or Ellen Jones  for a consulation and pricing

Inquire

►

Molecular Weight Determination (1)
Name
Description
Price

MW Determination ESI

Inquire

►

PTM Quantitaton (2)
Name
Description
Price

Determination of occupancy

To determine % occupancy of a modfication

Inquire

Phospho SILAC

Contact Lauren Ball for consultation and pricing

Inquire

►

Protein Characterization (3)
Name
Description
Price

De Novo Sequencing analysis

Inquire

Phosphorylation enrichment and analysis

Inquire

Phosphorylation or PTM analysis

Inquire

►

Protein Identification (6)
Name
Description
Price

LC-MS/MS 60 minute gradient

moderately complex mixture - medium gradient

Orbitrap Elite

Digestion Included

Inquire

2D LC-MS/MS (10 fractions)

(10 fractions) ($125/salt step/sample)

Inquire

2D LC-MS/MS (5 fractions)

(5 fractions) ($125/salt step/sample)

Digestion included

Inquire

LC-MS/MS 120 minute gradient

Good for protein identification of gel spot/band

Digestion included

Inquire

LC-MS/MS 180 minute gradient

complex mixture or PTM analysis - long gradient

Digestion included

Inquire

LTQ Identification

gel band or spot protein identifications

low resolution data

 

Inquire

►

Protein Quantitation (5)
Name
Description
Price

4-Plex iTraq

Contact Lauren Ball for consulation and pricing

Inquire

8-plex iTRQ

Inquire

Iodo TMT

Inquire

SILAC

Contact Lauren Ball for Consulation and Pricing

Inquire

TMT

Contact Lauren Ball for consultation and pricing

Inquire

►

unclassified (1)
Name
Description
Price

Spectra Anlaysis

Manual validation of PTM's for site localization and manuscript preparation

Inquire